Exceptional Reception Venues for Large Weddings in the Lake George Area
Looking for a venue for your wedding can be one of the most exciting steps in planning your big day! However, you may notice that as your guest list gets longer, the list of venues that can hold your reception gets smaller. Have no fear, we've rounded up some of the most beautiful places to have your wedding reception in Lake George and the surrounding area. No need to worry about leaving friends and family out, these venues can accommodate 300 guests and over.
Discover Large Wedding Reception Venues in Lake George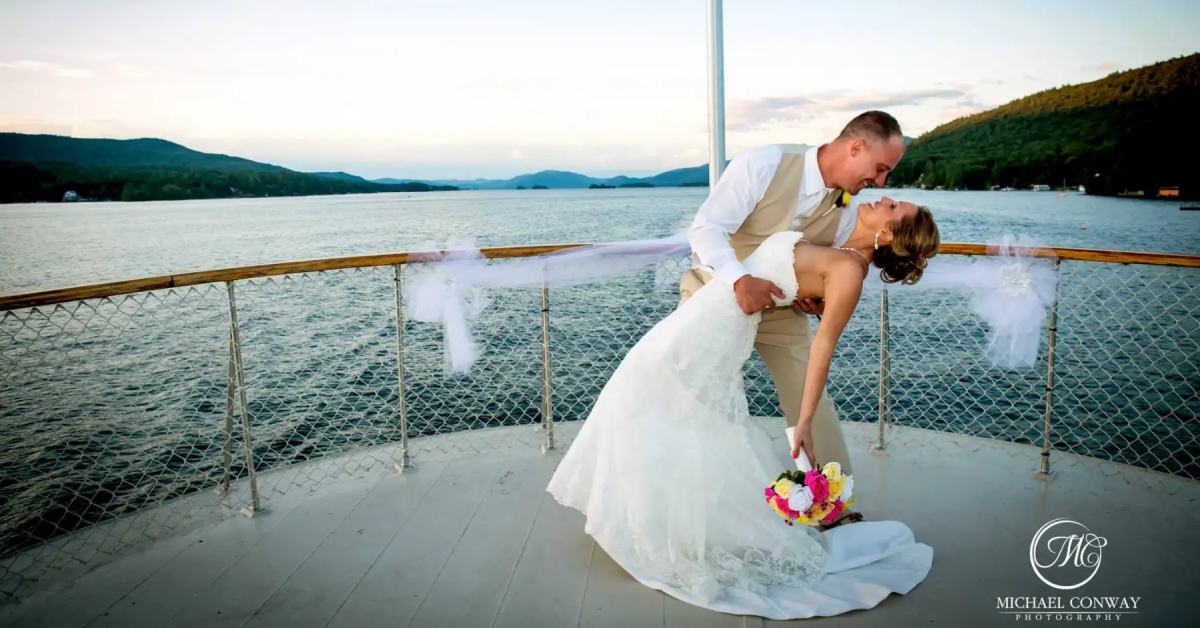 Lake George Waterfront Cruises: The Adirondac
Let your love sail away on the Adirondac, Lake George Waterfront Cruises' largest ship. The Adirondac was built specifically with weddings in mind and features three decks, two fully enclosed. This boat can accommodate up to 200 guests for a formal sit-down dinner or 400 for cocktails and appetizers. There is also a Bridal Suite overlooking the 2nd deck, and a sliding glass atrium that opens up over the dance floor for your most magical night.
Lake George Steamboat Company: Lac du Saint Sacrement
What better way for your guests to experience the beauty of Lake George than by celebrating your nuptials cruising around the Lake itself? The Lac du Saint Sacrement is the largest cruise ship on the inland waters of New York and serves as a great option for a truly standout cocktail reception. The steamboat can hold up to 1,000 people for cocktails and hors d'oeuvres! There are two fully-enclosed climate controlled decks, two open air decks (great for photo ops and views of the Lake!), and a handicap elevator so everyone can reach each level of the boat.
Fort William Henry Hotel: The Carriage House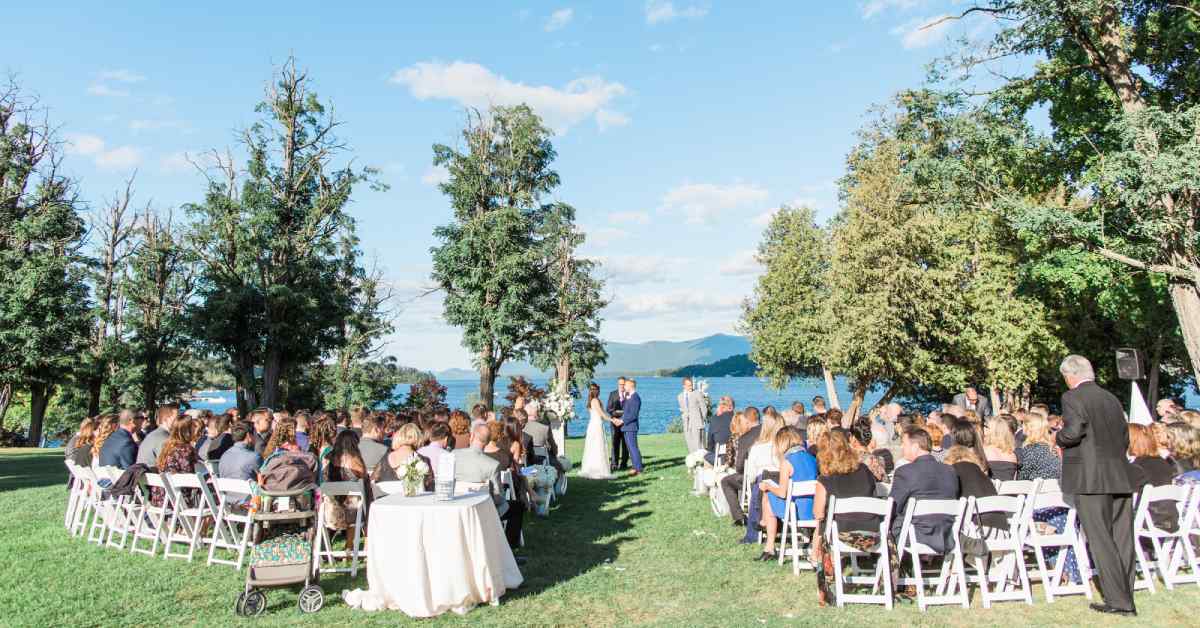 Fort William Henry Hotel's brand-new Carriage House can comfortably hold up to 300 guests. This stunning venue provides a seamless flow between indoor and outdoor spaces. Ceremonies can be hosted on the lawn with breathtaking views of Lake George and the mountains as the backdrop.
There is an expansive deck overlooking the lake, perfect for cocktail hour. The climate-controlled Carriage House offers year-round comfort, high ceilings, and large windows bring life to the space. Fort William Henry Hotel also offers on-site accommodations, perfect for the couple and wedding guests.
Explore Large Reception Venues Near Lake George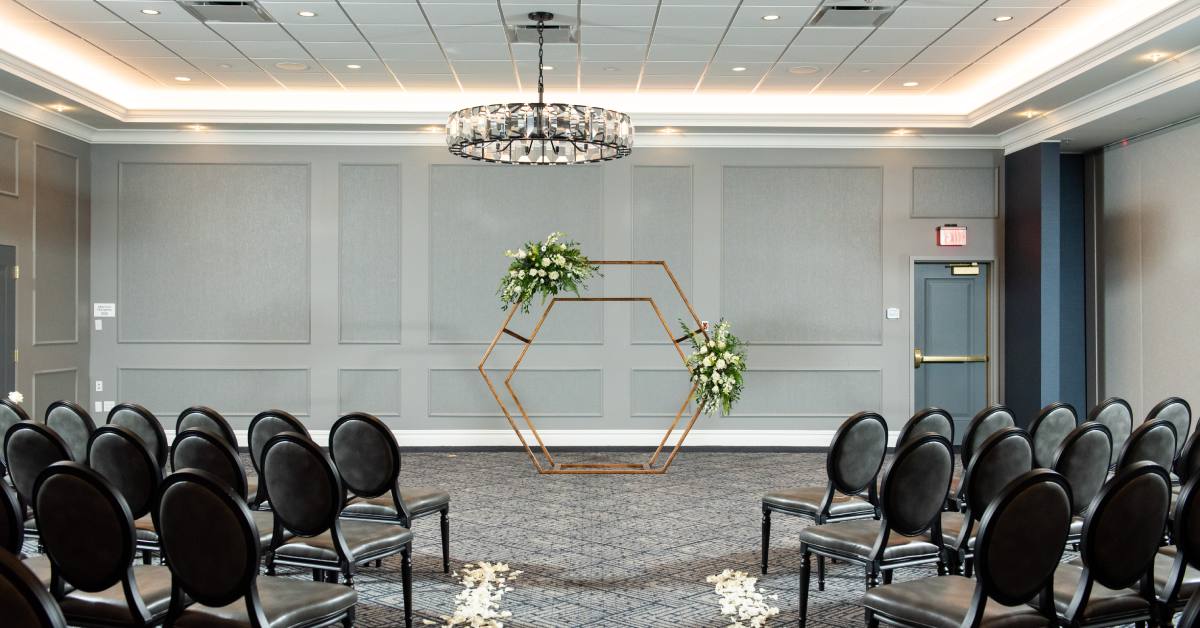 The Queensbury Hotel: Adirondack Ballroom
The newly redone Adirondack Ballroom at The Queensbury Hotel now features 5,500 square feet of event space and can accommodate up to 500 guests. The ballroom boasts a contemporary yet classic feel that is perfect for the modern couple. The space also provides sleek air walls and a moveable dance floor, so the area can be customized to what you need. The hotel also offers exceptional accommodations for those who wish to stay overnight!
The Hall of Springs
Just a short drive south from Lake George, Saratoga is home to the magnificent Hall of Springs. This glamorous and historic venue sits in Saratoga Spa State Park. The ballroom has 38-foot ceilings with three stunning crystal chandeliers and an outdoor patio with a view of the grounds, sure to leave your guests in awe! The Hall of Springs can comfortably hold 500 guests for a cocktail reception and up to 450 for a sit-down dinner with sufficient room for dancing. Ceremonies can also be held on the grounds if the weather permits.
The Empire State Plaza Convention Center
The Empire State Plaza Convention Center, located in the heart of downtown Albany, serves as a great venue for a large wedding. When the room is set up theatre style, it can hold up to 2,500 people and up to 950 classroom style. The tables can be placed on each tier of the convention center, all looking down on the large dance floor in the center.
Captain JP Cruises
Want to view the city skyline from the Hudson River at your reception? Captain JP Cruises is a wonderful option in the Capital Region. The four-deck cruise ship can accommodate and seat 500 people comfortably. There are three enclosed decks with air conditioning and heat, several bars, and a dance floor on each deck.
Bonus Venue: Six Flags Great Escape Lodge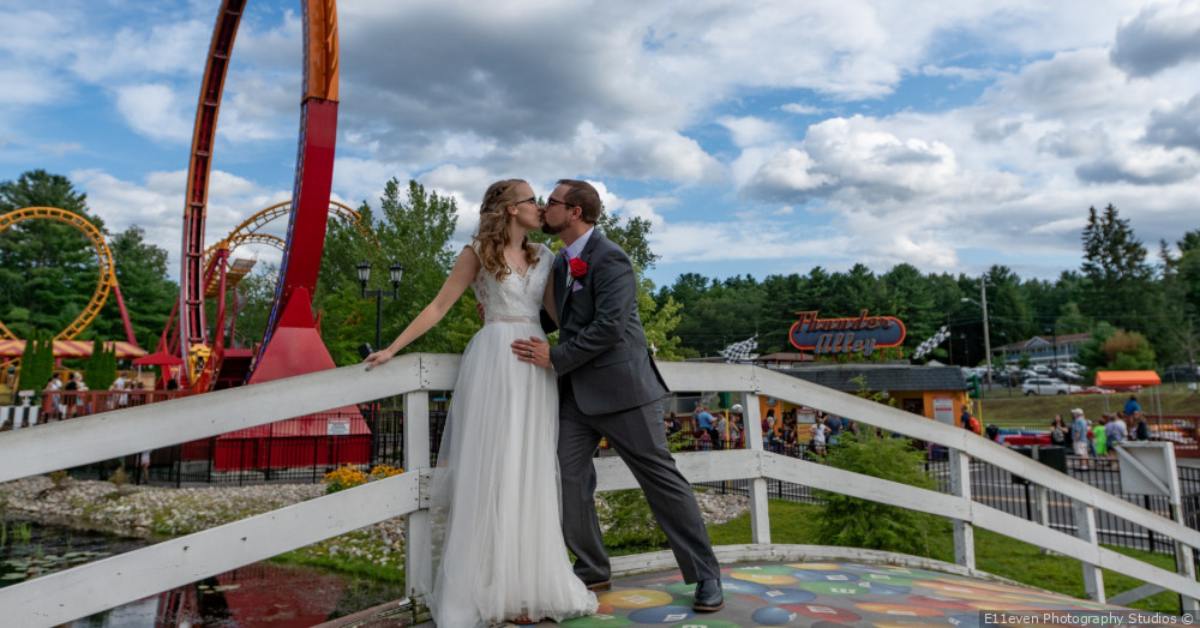 Six Flags Great Escape Lodge in Queensbury is a great option for those who have just under 300 guests. Their Mohican Ballroom has a contemporary feel and can host up to 275 people. The Great Escape Lodge is unique in that it is an all-inclusive wedding venue. Each wedding package includes a complimentary overnight couples suite, catering, a professional coordinator, an outdoor courtyard space, and much more.
Planning a large wedding can be difficult, but we hope this list of reception venues that can cater to a long guest list helps.
Check out more wedding venues in Lake George >>