Have the Timeless, Elegant & Affordable Boat Wedding of Your Dreams on Lake George
Think a boat wedding on pristine Lake George is an unreachable dream? Think again! The Lake George Steamboat Company offers a variety of options for boat weddings on Lake George that are affordable, elegant, and can offer the unique wedding you've always envisioned.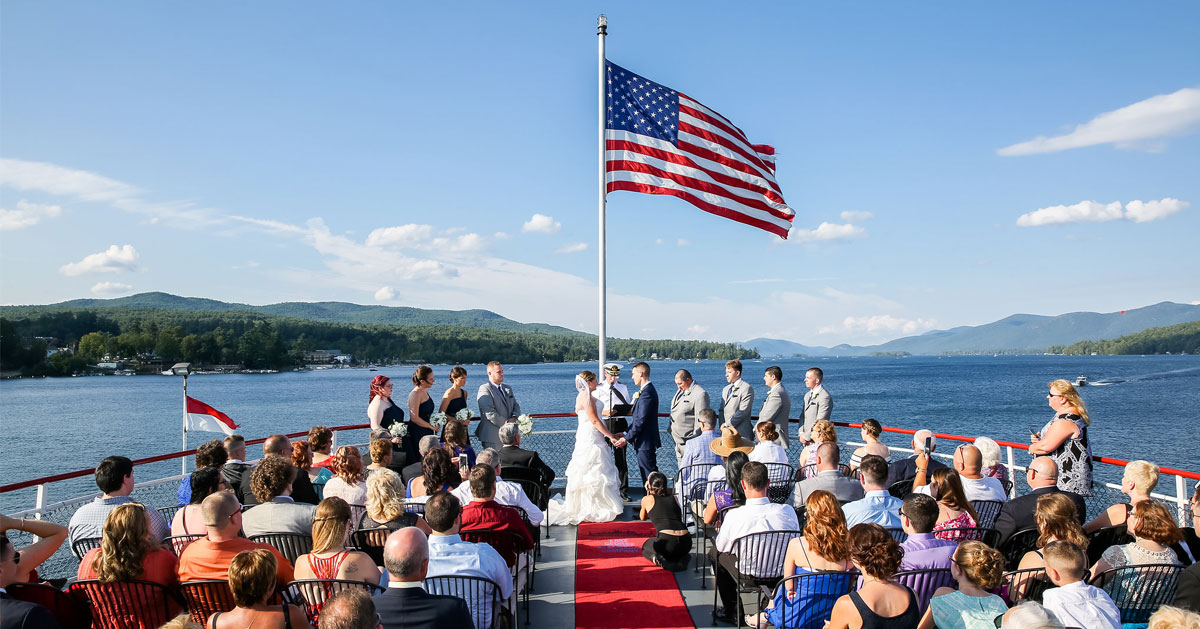 Lac du Saint Sacrement, photo credit: Luke Dow
Why Choose a Boat Wedding?
The Lake George Steamboat Company offers choices for every bride and every budget, and we'll break down your various options between two different boats, and between private charters and private party weddings.
But first let's talk about boat weddings in general and why they're such an ideal choice. Weddings are more and more personalized today than ever before. Gone are the days of walking down the aisle in a church to Pachelbel's Canon in D (that classic wedding song).
Options are wide open for brides-to-be, and outdoor weddings in particular can be breathtaking with the warm sun shining down on you and your loved ones, and a picturesque setting surrounding your ceremony.
Well, just imagine saying your vows with a backdrop of the dazzling lake and extraordinary mountains of Lake George. Enjoying an exquisite dinner and a cocktail while gazing out at the calm waters. Dancing the night away as the sun tucks itself away behind the mountains.
This is the kind of unique and special wedding you'll have when you opt for a boat wedding with the Lake George Steamboat Company.
"Our weddings on the boats are beautiful, affordable, and definitely a once-in-a-lifetime event," Toni Huntington, the Steamboat Company's Charter & Wedding Sales Director, told us. "We strive to give you options in order to stay in your budget and still have the wedding of your dreams."
Private Charter Weddings – Get the Entire Boat to Yourself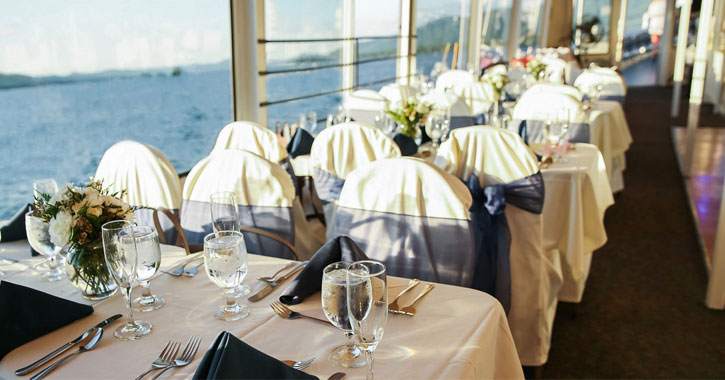 With a private charter wedding, the entire boat is booked for you and your special day.  The Lac du Saint Sacrement offers private charters for up to 350 guests between two decks.
This boat is climate controlled and has three bars to maximize comfort for everyone on board. You and your guests will have room to spread out and enjoy all the majestic boat has to offer, whether you're on the deck enjoying the crisp lake breeze, or you're mingling indoors.
The ceremony takes place on the deck surrounded by all the beauty of the lake. Dinner and dancing are indoors, although with all the windows you'll feel as if you're outdoors. Of course, any outdoor wedding needs a rain plan, and they have you covered here too – the ceremony can simply take place inside.
The second boat available for weddings, the Mohican, is ideal for a more moderately sized wedding or a rehearsal dinner. This boat is available for private charters for between 50 and 120 people, and includes a fully stocked cocktail bar and a dance floor. A bonus with the Mohican is it's available for on-site pickup at various locations around Lake George.
Here's a pro tip to save some money while wedding planning: If you choose a gorgeous location, you won't need many decorations, and this is the case when you opt for a boat wedding on Lake George. You're allowed to bring decorations on board, but with all the natural beauty and the old world feel of the boat, you won't need much!
You'll also save on money and stress by having catering included with the wedding package – no need to find an outside company. They also take care of the officiant, who is the captain, which completes the nautical theme perfectly, although you're allowed to bring in your own officiant if you prefer.
A Private Party Wedding – The Super Budget-Friendly, Stress-Free Option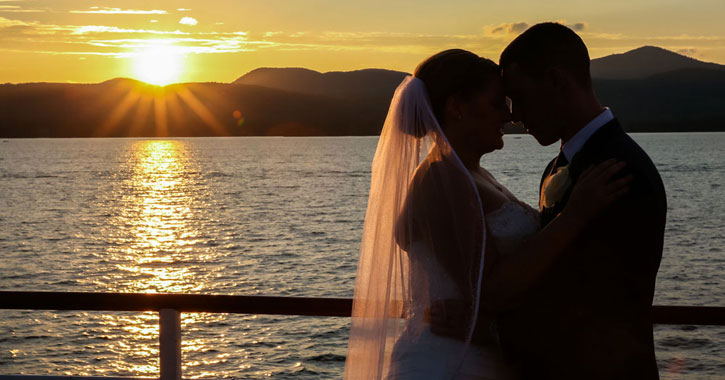 For an elegant wedding of any size, couples have the option of choosing a private party wedding, which is held on a regularly scheduled cruise. The ceremony takes place before the other cruise guests board.
The Lac du Saint Sacrement offers four different dining areas to choose from along with several wedding packages. For instance, there's the Simply Elegant Private Party Wedding Package, which is available on the lunch, brunch, or dinner cruise. It includes a private ceremony, a generous buffet, and all the essentials like cake, flowers, champagne, etc.
Having everything included in a package like that takes an enormous amount of stress out of the wedding planning process. The Lake George Steamboat Company will coordinate everything for you – your main job is to show up looking dazzling, ready to celebrate your love on a remarkable boat on Lake George. And, if one of their packages doesn't work for you, they will customize a package that does (this goes for private charter weddings as well).
Another plus with the private party weddings – live entertainment is already included with regularly schedule cruises.
Have the Boat Wedding of Your Dreams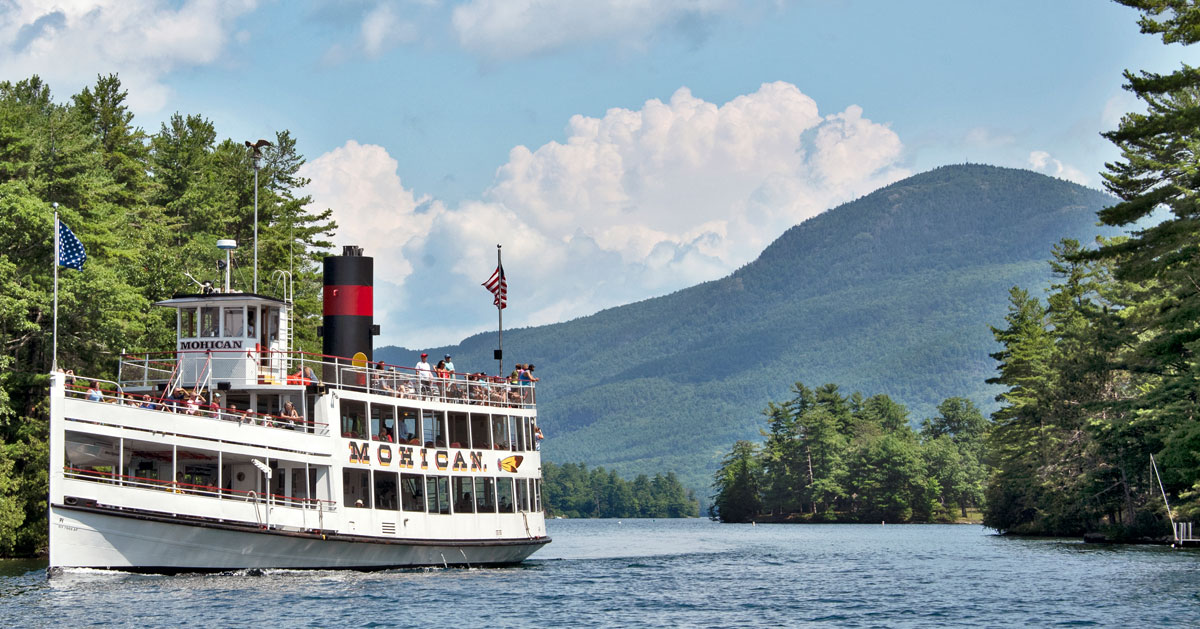 The Mohican, photo credit: Luke Dow
Regardless of what option you go for, what your budget is, and all the other specifics of what you have in mind for your big day the Lake George Steamboat Company will work with you to ensure your wedding is everything you've imagined.
When asked what kind of feedback they've received from weddings held in the past, Huntington explained they invite couples to come back after a year to celebrate their first wedding anniversary on one of the Lac du Saint Sacrement's regularly scheduled cruises.
"I try to stop by the boat and they tell me their friends and family are still talking about how amazing their weddings were!" she told us.
If you want a wedding your friends and family will be raving about for years to come, contact the Lake George Steamboat Company today. You can schedule an appointment to check out the boat, get a quote for your wedding, and have any questions answered.