Contest Open Now for $15,000 Boat Wedding Package on Lake George!
Picture yourself getting married on a luxurious boat in the middle of pristine Lake George – it could happen! The Lake George Steamboat Company is giving away a $15,000 boat wedding package to one lucky winner – here are the details and how you can enter.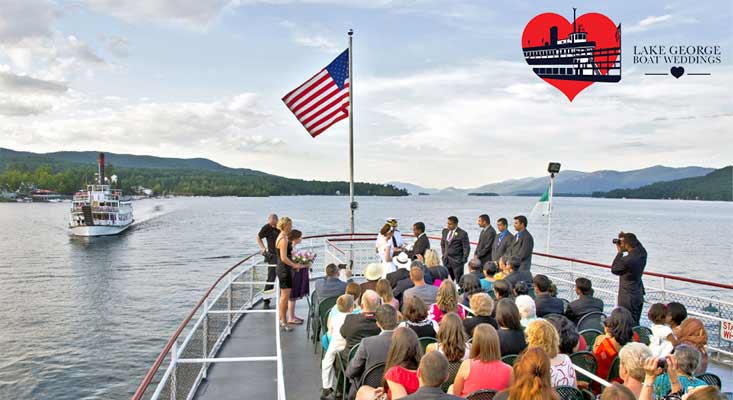 $15,000 Boat Wedding Package
The beautiful Lac Du Saint Sacrement boat could be yours for one incredible evening!
Enter the contest here by February 28th >>
Here's what's included in the package:
Five hour wedding – three hours sailing, one hour dockside before and after
Pre-dinner hors d'oeuvres
Champagne toast
Cake
Up to 100 guests
Notes and exclusions:
Package can only be used for a wedding (not a vow renewal or other celebration)
Wedding under 100 guests will be of less value than $15,000 and will be based on a charter fee plus a budget of $75 per person
Not included: alcohol/bar, flowers for bridal party, family and boat decoration, photographer, music
Conditions:
Expiration date 10/31/19
New bookings only
Date dependent on availability and Steamboat schedule
Excludes the months of July and August, holiday weekends, and special event weekends
Value will be less for weddings under 100 guests (as noted above)
Winner will be provided with a 1099 – package is considered taxable income
Lake George Boat Weddings will pay sales taxes and gratuities on winnings
By entering you're giving permission to Lake George Boat Weddings and Lake George Steamboat Company to use the following on their websites and in promotional materials in print and digital:

Photos of prize winner's wedding, including both the couple and the guests
Description of prize winner's story and any guests' stories
About Lake George Boat Weddings
Lake George Boat Weddings allow couples in love to exchange vows amongst their loved ones in a truly special way – surrounded by beautiful mountains and shoreline scenery only seen from Lake George.
The Lac du Saint Sacrement is the largest cruise ship on the inland waters of the state, measuring at 190 feet in length. There are two full-length, enclosed, climate-controlled interior decks and two open-air decks.
The charter department is experienced in both boats and wedding-planning, and they are ready to guide you into the wedding of your dreams!
Read more about weddings on the water at Lake George >>
About Lake George Steamboat Company
Lake George Steamboat Company doesn't just specialize in weddings, but a variety of cruises on their three large cruise ships: the Minnie-Ha-Ha, Mohican, and the Lac du Saint Sacrement – many of you have probably seen the Minnie-Ha-Ha go by in the summer, while eating lakeside at one of the many excellent Lake George restaurants.
This unique company offers everything from entertainment cruises to sightseeing cruises to specialty cruises and more. The Lake George Steamboat Company has been accommodating passengers on the lake as far back as 1817!
Enter the boat wedding contest today and start your married life in style!