Creative & Budget Friendly Wedding Decoration Ideas You Can Do Yourself
You've booked your wedding venue, set the date, might even be working on Save the Dates or setting up a wedding party website. You've still got a lot of things to plan out, and your budget is starting to dwindle. It might be time to start thinking about where you can save money on certain things, in order to have enough budget left to get the wedding dress you want, or add that photo booth to the reception that you've been thinking about.
Centerpieces (and other decorations) are a good place to start when trying to cut some costs. You can find many DIY options for centerpieces, signs, photos, and more to decorate the reception room, cocktail hour, and even your ceremony.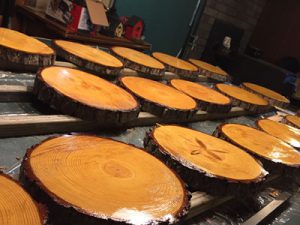 Our DIY Centerpieces
Centerpieces can be as simple or complicated as you would like. Flowers are the classic option, but can eat up a lot of the budget if you need to go through a florist for your arrangements. While we were planning our wedding, we focused on the centerpieces as a nice way to save some money and put a personal touch on our reception.
We had an outdoors theme to our wedding, since my wife and I both enjoy hiking, camping, fishing, etc. For the base of our centerpiece, my father and I cut a pine log into slabs somewhere between 1.5 – 2″ thick. The log was in the range of 10-12″ in diameter, and we used a chainsaw to make the cuts. After the slabs dried for a month or two, we hit the tops with a belt sander to smooth out some of the grooves left by the chainsaw, then applied 3-4 coats of polyurethane to give the slabs a glossy, smooth look.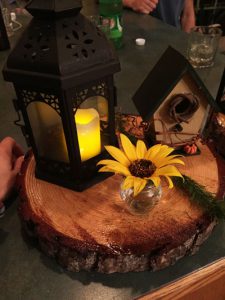 While we were working on this, my wife and her mother were working on customizing some bird houses. They had bought about 20 little bird houses and some craft supplies to dress those up a little. Some paint, some props, and several afternoons were spent on these, and they came out great!
We also added a small lantern with a candle inside, and a small jar with a sunflower (that we grew ourselves) on top of the slab to complete the center piece.
All in all, the centerpieces required our time, but did not end up breaking the bank. We ended up with a little surplus from our decorations budget that could be applied elsewhere.
Our Ceremony Decorations
We held our ceremony outside in the first weekend of September, so the weather was still pretty nice. Actually, it was about 80 and sunny that day — we really couldn't have asked for better weather!
We knew we wanted to have some flowers outside, along the aisle. We weren't really sure about where we were going to get them, or how they would be presented. One of us was browsing some wedding boards on Pinterest and saw this cool idea! We drink wine, so we have empty wine bottles around. We rigged up a post that would get pounded into the ground at the end of every other row of chairs, and hung some wine bottle vases on them!
With the help of a couple guests at the wedding (my sisters), we slipped the wine bottles off of the posts after the ceremony and brought them inside for cocktail hour.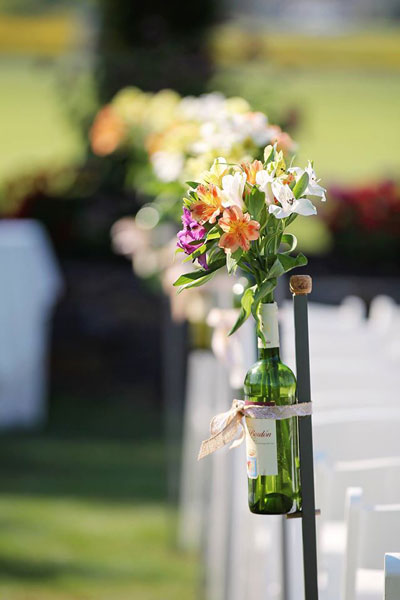 There they made great centerpieces while people snacked on hors d'oeuvres and socialized.
If you have any ideas for DIY Decorations from your wedding, or came across something cool on Pinterest, post it in the comments below!