How To Buy Gifts For Your Groomsmen
Traditionally, the Groom gets a gift for all the male members of the wedding party; best man and groomsmen, as well as ushers and the ring bearer. Whether your wedding is going to be 100% traditional or not, this is a nice gesture. The best man and groomsmen are going to be doing a lot of work to help with planning, bachelor party activities, and staying on schedule when the big day comes, so it's nice to give a little back.
I got married three weeks ago, here's what I did:
First, I paid for a portion of my party's tuxedos. Tuxes aren't cheap (even to rent) and everybody had to wear one at my wedding, so as part of my gift to my guys, I paid their tux rentals down to $100. (With the amount of beverages they bought me at my bachelor party, we'll call this a wash).
I also wanted to get them each something that they wouldn't need to return two days later, and I wanted the gift to be useful, personal, and durable. Something that each person could relate to, and use when needed – for a long time.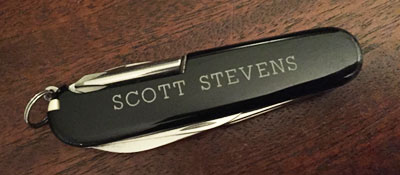 Now, there are no rules that say that each person needs to get the same gift. There are probably going to be guys of different ages, personalities, or backgrounds in your party, so the same gift might not apply to everyone. This was not the case at my wedding. My father and father-in-law are both into hunting and fishing (as am I). My best man (brother) is a contractor that spends lots of time outdoors. My three groomsmen are hikers, campers, fishermen, hunters, etc.
I ordered each of the guys (including myself) pocket knives with our names engraved on them. This gift met all of my requirements, didn't break the budget, and should last for years and years.
So what should you get for your friends?
Is your circle of friends employed in the corporate world in Manhattan? Maybe personalized money clips or a set of cufflinks?
Do you all like sports? Maybe a jersey or tickets to a game?
Do you get together to do something a few times a year? Theme the gift around whatever activity that might be (golf, camp, vacation, etc.).
Did you all grow up together? Maybe look for something "local" even though you might not all still live in the area.
How much should you spend on gifts for groomsmen?
Each knife that I bought cost about $35. I did spend some more money on the tuxedos. The answer to this question is: How much do you want to spend. You can certainly find a nice gift for your guys for anywhere from $20 to $200 (or more, if that fits your budget and you really like them).
When are you going to give the gifts out?
There are a few different options here. We gave ours out at the rehearsal dinner. Everyone in the wedding party should be there for the rehearsal dinner, so you can hand them out all at once.
It's also a little more intimate than the wedding itself, and offers a nice platform for thanking each person in your wedding with a gift.
The bachelor party is another option (especially if it's something useful or related to the festivities). Or even at the golf course if you all get together for a round before the big day.
Good luck! I'm sure the guys will love whatever you decide to do for them. If you have any other ideas for gifts or want to share what you are doing, leave a note in the comments below!