10 Tips For Choosing A Lake George Wedding Venue
Congratulations on your engagement.. now the planning begins!
One of the first things you should do when planning a wedding is choose your venue. This decision often comes before you settle on a date, as that date will depend on the availability of the venue you would like to get married at, or have your reception at, or both! Don't put this off for too long, you should be looking to book your venue about a year before your wedding. Here are a few simple steps to get on the fast track to booking a wedding venue in Lake George:
1.) Decide on a date range for the wedding. Late spring/early summer? Late summer/early fall? Winter? This will help you choose what type of venue you are after, and help narrow down the dates available when it's time to decide. For example, if you would like to get married in the winter in Lake George, you can cross the outdoor venues off of your list, as well as the seasonal venues.
2.) What area would you like to have your wedding in? Your hometown? The place where you met your spouse? On the lake? A destination wedding?
3.) Decide where you would like to have your ceremony. Are you getting married in a church? Look at reception venues that are nearby. If you're going to hold the ceremony and the reception at the same location, decide whether you would like to be indoors or outdoors for both the ceremony and reception. I got married a little over a month ago in Queensbury, just south of Lake George, and we held our ceremony outdoors in the afternoon, and then moved inside for the reception when the sun started to go down.
4.) Decide on a time frame for the wedding reception. Are you getting married in the middle of the day? Afternoon? Do you want to be able to stay and party into the night if everyone is up for it? Some venues will keep the music playing and the bar open for as long as you want (as long as you want to pay). Some venues have strict policies in order to comply with local laws and cannot play music after a certain hour.
5.) Do you have out of town guests that need a place to sleep? If so, a hotel or some sort of lodging might be a requirement. We got married at a golf course, and booked a limo bus to transport guests to and from a nearby hotel. We did, however, start our search with reception venues that had lodging on the premises.
6.) What kind of reception would you like to have? Some weddings are social events where guests prefer cocktails and conversation. Some weddings are dance parties and everybody is moving all night! If you're shooting for a dance party, the venue needs to have a good sized dance floor that is visible from all the tables.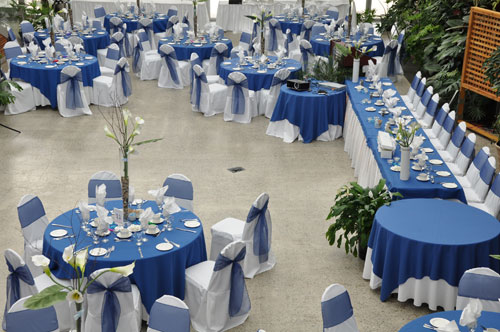 7.) Estimate about how many people you are going to invite to the wedding. In general, about 85% of the people you invite to your wedding are going to come. Obviously this will make a difference, as wedding venues have max numbers. Minimum numbers are also important, as you don't want to room to look empty. So lets say you're going to invite 200 people to the wedding, you can count on about 170 coming. You should then use a little padding to make sure that everyone will fit. You're now looking at a venue that can accommodate between 160 – 180 people.
8.) Will there be a sit-down dinner? Passed hors d'ouevres? Separate cocktail hour? If you aren't having a sit-down dinner, maybe you don't need a seating chart and tables for everyone? People can mix and mingle around high tops, on the patio, or in the lobby. Also, if there are choices to be made on the menu, make sure you sample everything ahead of time!
9.) Would you like to have any extra activities at the reception? Photo booth? Entertainment? Make sure the reception venue can accommodate those, and that the extra services you choose, can travel to the location you've chosen. That beautiful location on Northern Lake George may be a bit too far for a vendor traveling from southern Saratoga County.
10.) Are you going to have an open bar? Some venues price these differently: you either pay by the person, or it will be included in the food. Also, when you visit reception venues, pay attention to where the bar is in relation to the reception hall.
Once you have answers to the questions above, make a list of venues that match most of the criteria. Schedule appointments to go visit each venue on the list. Try to do these all within a couple weeks so you don't forget what you saw at the first place by the time you visit the last place. Note – you might not be able to find a place that does/has everything! One place might be just perfect, except they can't accommodate a photo booth; another might be able to accommodate all the extras, but have a small dance floor — Now you have a decision to make.
My last tip: If the reception venue doesn't look the way you want it to look when your wedding day comes, be very careful about booking. We visited a venue that was undergoing some construction and we were promised that everything would be good to go in time for our big day. However, deadlines get missed all the time. You don't want your wedding day to depend on a construction crew! As perfect as we thought this location would be once completed, we passed on that option.